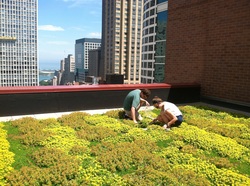 Maximizing soil services in green roofs
Green roofs are increasingly incorporated into urban sustainability planning for their ability to retain storm water, insulate buildings, and curb urban heat island effects. Healthy, functioning soils are required for optimal functioning of green roofs, but little attention is payed to soil or soil functioning in green roof construction. Our work examines soil health and functioning in Chicago green roofs with the goal of maximizing green roof services and urban biodiversity.
Collaborators: Kelly Ksiazek, Northwestern University and Chicago Botanic Gardens

---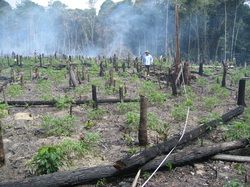 Biogeography and biodiversity conservation of mycorrhizal fungi
Arbuscular mycorrhizal (AM) fungi, beneficial root symbionts, provide vital soil services in ecosystems all over the world, yet their large-scale biodiversity patterns remain elusive and no current strategies exist to prioritize AM fungal biodiversity conservation efforts. We are working to better understand AM fungal biogeography in an effort to develop conservation recommendations for land managers. Our work also examines how land use, specifically Native American low-input agriculture, can influence AM fungal communities.
Collaborators: Dr. Nancy Johnson, Northern Arizona University; Dr. Gisela Cuenca, Instituto Venezolano de Investigaciones Científicas
---
The role of soil organisms in restoring degraded ecosystems
The vital functions and services of soil are provided entirely by the organisms living in it. Therefore, the ecological restoration of soil that has been physically, chemically, or biological degraded requires active and passive efforts that consider soil organisms. How can soil organisms aid in ecological restoration efforts? Through a variety of approaches, including mesocosm experiments, field experiments, and meta-analysis, we are investigating the appropriate context in which soil organisms influence restoration success.
Collaborators: Dr. Matt Bowker, Northern Arizona University; Dr. Nancy Johnson Northern Arizona University; many more...

---