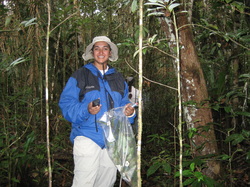 Dr. V. Bala Chaudhary - Principal Investigator
My parents immigrated from India to Minnesota in the 1960s and shared with me their generations-old ethics regarding nature, agriculture and land management. As an undergraduate at the University of Chicago, I learned about the ecology of mycorrhizal fungi and was instantly "infected". After college, I spent several formative years working as an environmental consultant in Los Angeles learning about the complex science and policy issues behind conservation work. I did my M.S. and Ph.D. at the mycorrhizal hotspot that is Northern Arizona University and then worked as teaching faculty for several years at Loyola University Chicago in the Institute of Environmental Sustainability. I have been fortunate to have many many mentors that shaped my career path including Greg Mueller, Jim Bever, Peggy Schultz, Mike Miller, Margot Griswold, Kitty Gehring, and Nancy Johnson.

I am currently an Assistant Professor in the Department of Environmental Science and Studies at DePaul University. My research examines soil ecological questions, with a focus on mycorrhizal fungi, to address landscape-scale questions in natural and managed ecosystems from deserts to rain forests to cities. I teach courses on environmental statistics, climate change, and plant ecology.
---

Martha Lazarski is an Environmental Science major at DePaul. Her area of interest is within the natural sciences and urban agriculture and she is passionate about finding solutions for the problems caused by climate change and working to reverse its effects. Her research examines green roofs in Chicago and the role they can play in mitigating the effects of climate change through carbon sequestration. Martha is also excited to examine how green roofs can play a role in urban agriculture and is treasurer of the Urban Farming Organization at DePaul.
---

Claudia Victoroff is an Environmental Science major at Loyola University Chicago. Her research examines seasonal wind-borne dispersal patterns of arbuscular mycorrhizal fungi.

---
Lab Alumni (and current whereabouts)
Connor Tamaka - Loyola University Chicago
Brittany Rivera - Loyola University Chicago
Amina Smajlovic - Loyola University Chicago
Sarah Ashcraft-Johnson - Loyola University Chicago
Aqsa Junagadhwala - Loyola University Chicago
Katie Pacholski - Indiana University grad program
Dario Jurkovic - Loyola University Chicago
Susanna Lohmar - The Talking Farm
Emily Sandall - Penn State University grad program
Carlyn Van Camp - Glendale High School Science Teacher
Kristine Akland - Akland Environmental Law Firm LLC